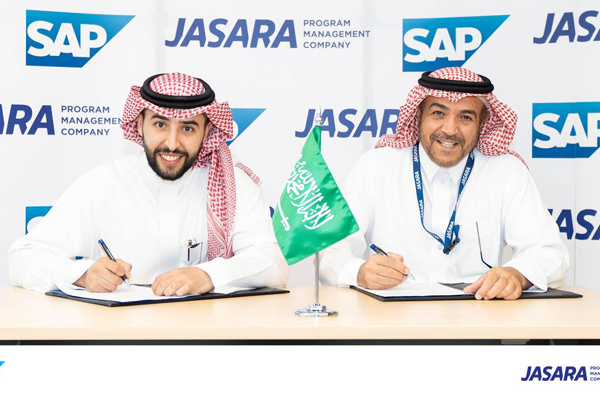 Jasara, a leading project management company, has announced a strategic partnership with SAP, a global leader in enterprise application software, to accelerate its digital transformation journey.
Jasara Program Management Company is a joint venture between Saudi oil giant Aramco, US-based Jacobs Engineering Group and kingdom's sovereign wealth fund PIF (Public Investment Fund).
Jasara was set up in 2017 to provide management services for social infrastructure projects in Saudi Arabia and across parts of the Middle East and North Africa (Mena) region.
"Our partnership with SAP marks a significant milestone in our digital transformation journey," remarked Mohammed AlMana, the CEO and President of Jasara.
As part of this transformation, Jasara is adopting a cloud-first strategy, deploying a suite of advanced SAP solutions on the public cloud, with RISE with SAP at its core.
"By deploying these advanced cloud solutions, we're enhancing our business processes and decision-making capabilities. This transformation will empower us to fully utilize our data, increase our agility, and focus on driving further innovation, all while delivering superior value to our stakeholders and the Kingdom," he stated.
Building upon this core cloud foundation, Jasara will also implement a host of SAP cloud solutions including SAP Ariba for streamlined procurement, SAP SuccessFactors for enhanced HR operations and SAP Fieldglass for optimal external workforce management, thus transforming its business processes across these critical functions, he added.
According to him, RISE with SAP, the group's flagship cloud ERP solution, will serve as the foundation of this digital transformation.
It simplifies the move to the cloud by providing a comprehensive offering that includes SAP S/4HANA Cloud, cloud infrastructure, and managed services, hence enabling companies to become more resilient, flexible, and capable of rapid growth, offering a simplified path to becoming an Intelligent Enterprise.
The move to RISE with SAP also illustrates Jasara's commitment to environmental sustainability. The cloud-based system reduces the need for on-site servers and hardware, thereby minimizing the company's carbon footprint, sated Al Mana.
This aligns with Jasara's broader sustainability goals and its commitment to contribute to the Kingdom's Vision 2030, he added.
Mohammed Alromaizan, SAP's Vice President for Saudi Arabia, expressed delight at partnership with Jasara, a company that shares its commitment to innovation, sustainability, and the development of local talent.
"Our advanced cloud solutions will provide Jasara with the tools they need to achieve their strategic objectives and contribute to the Kingdom's ambitious digital transformation agenda," he noted.
Jasara said its strategic decision to adopt a cloud-first strategy with SAP represents a significant step in its journey towards digital transformation.
The adoption of these SAP advanced solutions will result in increased operational efficiency, improved decision-making capabilities, and a boost to Jasara's competitive edge, stated the Saudi PIF-backed entity.
This move is expected to strengthen Jasara's position as a leader in the project management sector, delivering superior value to its clients, employees, and the Kingdom of Saudi Arabia, it added.-TradeArabia News Service