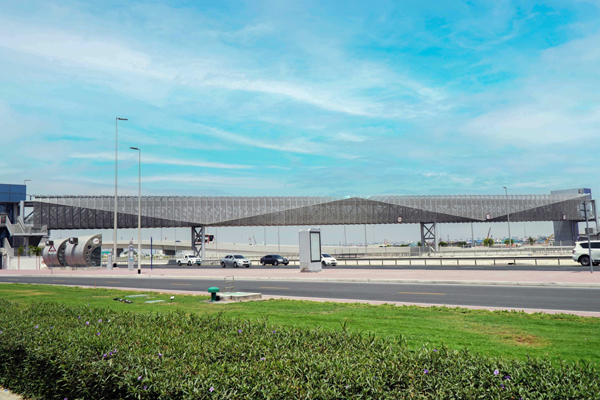 Roads and Transport Authority (RTA) has completed seven new footbridges spanning 888 m long across Dubai.
A bridge connecting Al Khaleej Street between the intersection of Omar Bin Khattab Street and Abu Bakr Al Siddique Street, near Dubai Hospital is among the new footbridges.
In addition, six more footbridges totalling 888 metres in length are being constructed across the emirate, said the statement from RTA.
The design emphasized the use of aesthetic and innovative components, as well as hi-tech electromechanical systems, alarms, firefighting, and remote monitoring systems. The bridges are equipped with dedicated bike tracks, it added.
Announcing the work completion, RTA Director General and Chairman Mattar Al Tayer said the construction of footbridges was consistent with Dubai's traffic safety strategy, which aims to make the city the safest in the world in terms of traffic safety.
It also seeks to reduce fatalities from run-over accidents to as low as zero by providing infrastructure and safety measures for motorists and cyclists, he stated.
"The construction of these bridges adheres to the highest international standards for traffic safety evidenced by numerous service facilities such as electric elevators, alarm and firefighting systems, remote monitoring and others," noted Al Tayer.
RTA said it has inaugurated a new footbridge on Al Khaleej Street, connecting the junction of Omar Bin Al Khattab Street and Abu Bakr Al Siddique Street, near Dubai Hospital.
This bridge spans about 120 m long, 3.4 m wide, and 6.5 m high from the asphalt. It has two elevators, stairs, and a room for electromechanical systems like alarms, fire-fighting systems and remote monitoring systems, it stated.
Six-footbridges are presently under construction on different major streets in the emirate. These include a bridge on Al Mina Street situated between Al Saqr and Al Mina intersections, running 109 m long, while the second one, a 91-m-long bridge, is being built on Sheikh Rashid bin Saeed Street between Sheikh Khalifa bin Zayed Street and Sheikh Sabah Al Ahmad Al Jaber Al Sabah Street.
Both bridges are equipped with elevators, stairs, and a room for electromechanical systems that contain alarm and fire-fighting systems as well as remote monitoring systems.
The third footbridge will be constructed on Ras Al Khor Road, forming a link between the Creek Harbour and Ras Al Khor Industrial Area, while the fourth will be built on Ras Al Khor Road.
The fifth bridge will be built on Al Manara Road in the Al Quoz Creative Zone with aesthetic elements that complement the design identity and artistic elements of the facilities and components of the zone.
And the sixth bridge will come up on Al Khawaneej Street, opposite to the Arabian Centre running 248 m long.-TradeArabia News Service