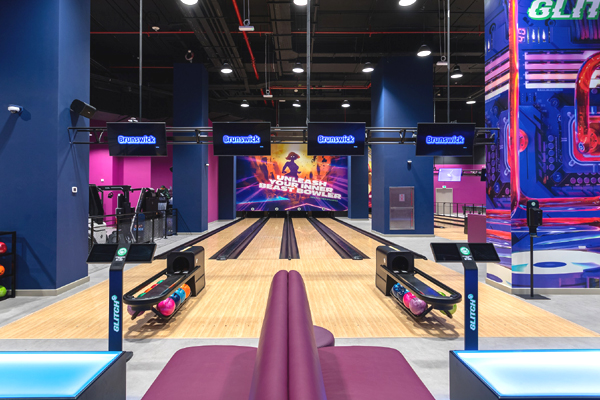 Al Ghurair Properties has announced the launch of GLITCH, its newest indoor active entertainment complex in Dubai that offers an extraordinary family outing with more than 30 family attractions with many Dubai firsts, including an indoor roller glider and the region's first Pandora's Peak.
Spanning more than a 40,000-sq-ft area, GLITCH, which is owned and operated by Al Ghurair Properties (AGP), sets the stage for thrill-sekers to indulge in immersive games and heart-pounding activities that will redefine the notion of excitement, making it a must-visit destination for children, teens, and the young at heart.
The new indoor entertainment complex offers visitors the chance to experience the ultimate test of strength and agility on Kazu, the challenging ninja warrior course with multiple routes to push visitors' limits and also defy gravity on Newton's Walls, where seven themed climbing walls provide a thrilling challenge for all skill levels.
The adventurers can aim to reach new heights with SkySurf, Dubai's only indoor roller glider, as adrenaline junkies soar through the air and feel the rush. To get back down, guests can embark on a thrilling journey of twists and turns on Loop-de-Loop, the 10-metre slide that guarantees excitement for all adventurers.
For the gamers, there is plenty at the GLITCH. The GamePort Arcade stands as the ultimate gaming haven where nostalgia meets cutting-edge technology.
"Whether gamers are yearning for classics or seeking the latest VR adventure, GamePort Arcade has something to satisfy everyone, from PAC-MAN to 360 VR attractions. Step into another dimension with PlayNeo, where mind-blowing experiences await: battle robots, explore unchartered territories, and embark on stimulating adventures – all whilst competing with friends in groups of up to five," said a company spokesman.
According to him, the BeastBowl allows players to unleash their competitive spirit, as it provides an extraordinary bowling experience that will bring out participants' inner bowling beasts!
"Prepare for monstrous strikes and spares when stepping up to the eight-lane bowling alley, which incorporates the latest and greatest Brunswick bowling technology not yet found anywhere else in the UAE," he stated.
"Also you can embark on a regional first with Pandora's Peak, an exhilarating climbing adventure that challenges little ones to ascend from one level to the next. This immersive attraction transports them to a neon wonderland, illuminating the path to the top with dazzling colours as they conquer each level and reign over the heavens," he added.
Conveniently located on Level 2 of Al Ghurair Centre, the new family entertainment complex is just a few feet away from the mall's food court, where a number of dining options can be found enabling visitors to refuel and recharge after an action-packed day.
The package prices start at: Monk – Any 2 Experiences for AED35; Master – Any 4 Experiences for AED65 and Extraordinaire – Any 6 Experiences for AED100, he stated.
According to him, visitors can indulge in the excitement at Astro Arena, a dynamic free gaming area that will switch up its offerings every six months.
"For the first six months, Astro Arena presents Football Pool, a fusion of two classic games. Using a giant pool table and footballs, players must kick the white ball around to pot the coloured balls. The ever-evolving offerings of Astro Arena promise endless fun and surprises for all visitors,." he added.-TradeArabia News Service